Auto lifts
make every project easier—no more jacks and jackstands, bending over, or squeezing under a car for service. So why doesn't everyone have one? What used to be expensive, impossible to fit in most garages, hard to install, and dangerous to work with is now within reach of the advanced do-it-yourselfer. Global competition has driven down the cost of a very serious, good-quality, entry—totally affordable. Innovative manufacturers have also developed a variety of lifts to match every garage and skill level. We're going to show you how to stop crawling around under the car and start working on your feet.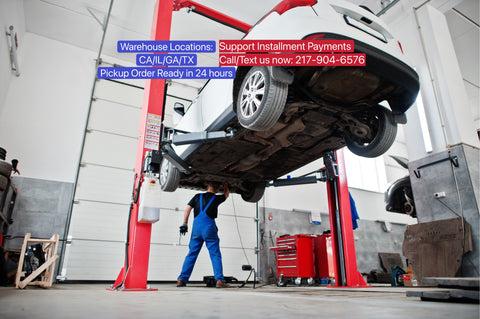 There are several types of lifts to choose from. For the new POPULAR MECHANICS garage in Ferndale, Mich., we installed a 10000-pound two-post 12-inch symmetrical lift with a 220-volt hydraulic pump (we never know what vehicles are going to roll in). A two-poster is one of the most versatile kinds of lifts and the one most people choose.
The first order of business is receiving and unboxing. Lifts aren't exactly feather-light, and they are shipped in big wooden crates—so make sure the shipper sends a truck-mounted crane or forklift to do the unloading. Also, have four furniture dollies (trust me, it'll be worth it) to drop it onto and roll the crate into the garage. Then tear open the box and sit down to read the instructions. No, really, actually read them.
The individual installation steps aren't hard (well, most of them), but pay careful attention to detail. We are talking about a potentially dangerous machine, so take your time.