FAQ's- Frequently Asked Questions and Answers
Does hydraulic fluid come with the lifts?
Due to current DOT and insurance laws regarding the transport of hydraulic oils (DOT Section 1 - Hazardous Ingredients; DOT Section 2 - Fire and Explosion Hazards and DOT Section 3 - Health Hazards) the required hydraulic fluid is to be supplied by the end-user, only. KATOOL and M&E lifts are designed to operate using standard 10-weight, non-foaming, non-detergent hydraulic oil (AW-32 or AW-46) or Dexron-III ATF fluid. This is available in virtually any automotive store.
Do I need a special floor or foundation to support my new lift?
Most residential or commercial foundations are strong enough to support KATOOL and M&E lifts. However, it is important to adhere to concrete specifications. Failure to do so could cause lift failure resulting in personal injury or death.
A level floor is suggested for proper installation and level lifting. With proper shimming, small differences in floor slopes may be compensated for. If a floor is of questionable slope, consider a survey of the site and / or the possibility of pouring a new level concrete slab.
Be sure to check your floor for the possibility of it being a post tension slab. In this case, contact the building architect before drilling. Visually inspect the site where the lift is to be installed and verify the concrete is in good condition. If your concrete has cracks or other defects, please consult with a certified contractor before proceeding to install any KATOOL and M&E lift.
Lift owners and end users are responsible for the safe installation of their lift. The general concrete requirement can be found below, but it should not be construed as actual requirements for your building, facility or application. Because local and statewide building codes may change and / or vary, always check with the building architect before installation for additional guidance on UBC compliance requirements. In no event shall Rainier Engineering, LTD be liable for special, consequential or incidental damages for the misinterpretation of this information. Rainier Engineering, LTD. reserves the right to make changes to this document without incurring any obligation to notify the public that changes were made.
*Concrete thickness must be at least 5.9" (150 MM) with a 3000 PSI rating. Failure to install this lift on the proper concrete, could result in serious injury or death! It is the customer's responsibility to verify concrete thickness and strength before purchase and installation. 
What is the recommended drill-bit size?
The recommended drill-bit size is 19mm, but it may vary based on your building, facility or application.
What is the ceiling height required for a KATOOL or M&E lift?
The required ceiling height will vary depending on the lift model, as well as the intended vehicle. Please refer to the product specification page for each product for further details.
Are car lifts available in different voltages?
Other (unlisted) voltages may be available upon request. Voltage options vary between models.
Are parts available locally?
We stock parts in our warehouses in CA, IL, TX, GA and NJ. In the circumstances that we don't have them in a US warehouse, most parts are available directly from our main factory in Liaoning, China.
What size circuit breaker does a lift's power unit require?
We recommend a 30-amp breaker for your car lift.
Why are the arms of my two-post lift bouncing when going up and down?
There's probably air in your lines. Raise the lift to the first lock, then crack the bleeder screws at the top of the cylinders to remove air trapped in the system. When fluid starts to leak out, tighten the screws.
Why is fluid running down the sides of my cylinders?
Inspect the bleeder screws at the top of the cylinders to make sure they are snug.
Can I change a motorcycle tire with your tire changer?
Yes, we have accessories available to purchase to accommodate motorcycle tires.
Can I balance a motorcycle tire with your wheel balancer?
Yes, we have accessories available to purchase to accommodate motorcycle tires.
What are the voltages for the tire changers and wheel balancers?
They are uniformly 110v.
What do the brown, blue and green wires stand for?
Brown = Hot Leg
Blue = Neutral (may also serve as a 2nd hot leg in 220V setting)
Green/Yellow = Ground
How do I use a Katool/M&E wheel balancer?
How do I calibrate my Katool/M&E wheel Balancer?
* calibration is performed the same way for all Katool/M&E machines
What to do if I have a technical question or need a diagram?
Please contact our tech line. Call or text: (716) 299-8852
What will KATOOL do about missing or incorrect products and parts?
Such claims MUST be made within 30 days of the order's date of receipt. It is best to inspect your shipment before acknowledging to the carrier that the delivery is complete and in good condition. After 30 days, parts will almost certainly not be replaced, but the sooner a claim is made, the better.
What warranty coverage does KATOOL / M&E offer?
All KATOOL and M&E products are covered by the one-year all parts warranty. All parts and the cost of shipping are covered. Labor costs are not included in the warranty coverage. We also offer a 2-year extended warranty program that you can found on the website: https://autool.us/products/2-year-extended-warranty
What are my financing options?
We are partnered with ClickLease and FaasTrak. You can find both options on each of our product page, and on the cart and checkout page. Clicking on the link will take you to an application page, and we will work with you along the way to ensure that the process is as smooth as possible.
How long does it take to receive my order?
An order placed with us will take approximately 5-7 days for delivery, depending on the model and/or quantities ordered.
Are there additional freight charges to Alaska, Hawaii, US Virgin Islands and Puerto Rico?
Not at the moment. If you are ordering in bulk to these areas, please contact DZ at 447-902-3857 to have a further discussion.
What should be done about concealed damage?
Consignees have 48 hours to notify the freight carrier and request an inspection.
If I have an item shipped by truck freight, is the driver responsible for unloading the merchandise?
No. An additional fee will be applied to all residential deliveries of heavy equipment and to any lift gate service.
What if my freight is damaged?
If a shipment is damaged when it arrives, you must sign "damaged" on the freight bill and make notes regarding the damage. Please take digital photos, if possible.
Do you ship outside the United States?
Yes. Call 1-217-778-6812 for international shipping rates or email info@autokato.com.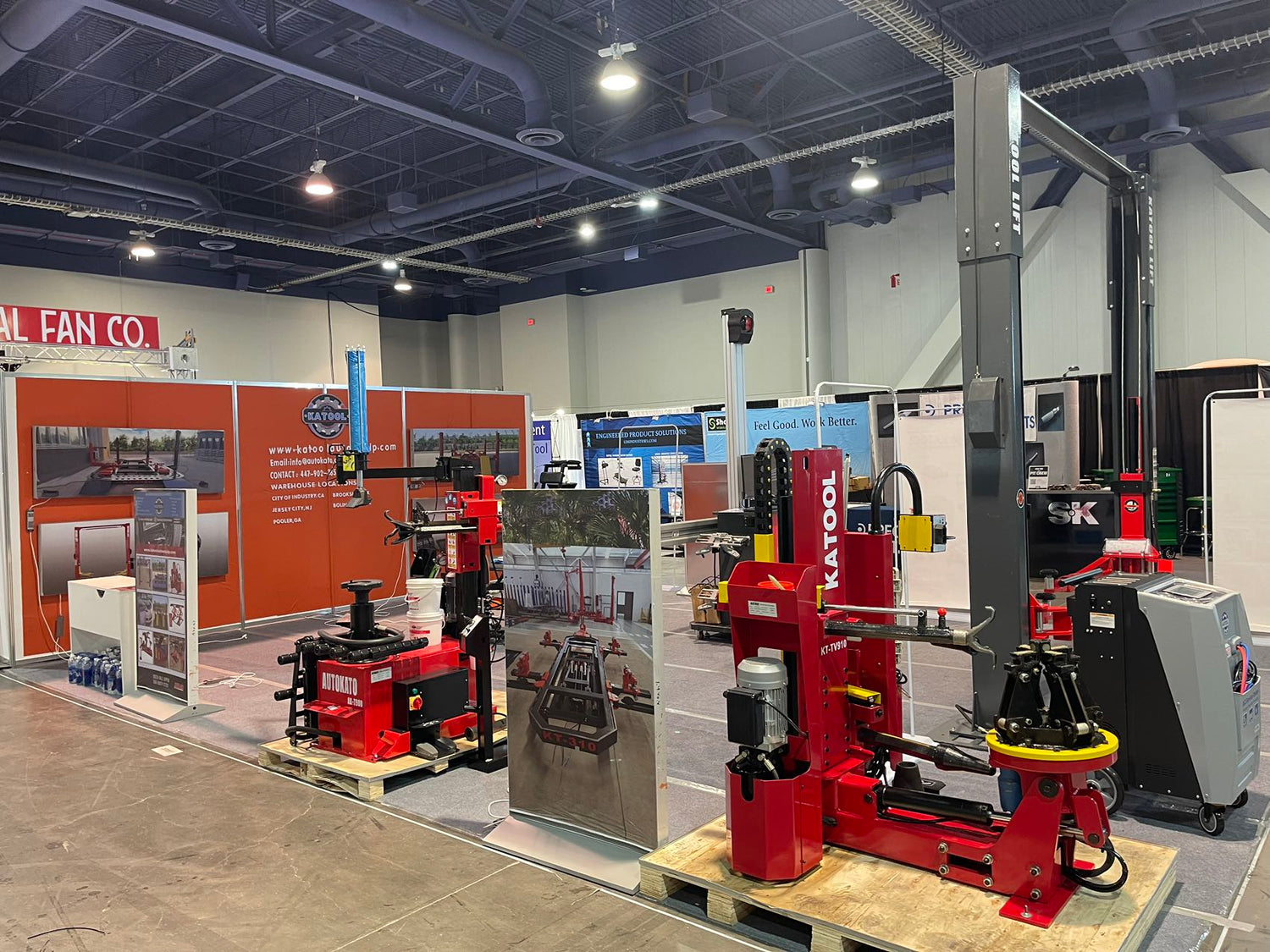 SEMA 2023
We were thrilled to make our debut at SEMA 2023 this year. We will see you all again next year!
Shop Now