AK-X80

 

Product Description
Lift Description
The surface mounted lift has been designed for the lifting of motor-vehicles for maintenance. The maximum lifting weight is as specified on the serial plate. All mechanical frames, such as platforms, extensions, base frames and arms have been built in steel plate to make the frame stiff and strong while keeping a low weight.
This chapter describes the lift's principal elements, allowing the user to be familiar with the machine. As shown in figure 1, the lift is composed of two:
platforms (1) each equipped with N.2 ramps(2) which can be locked as the platform extensions, placed on the ground by means of base frames (3) Platforms are linked to the base frame by means of a scissor lifting system. The lifting system of each platform is composed of arms (4) and a cylinder (5). Motion is transmitted by a lever system, from the cylinders to the lever arm (6). Lowering and lifting are carried out by operation of the control unit (7) which is removable. The mechanical safety locks operated by pneumatic cylinders are installedat each base and controlled by the control panel. The lift is equipped with a bolster beam in front to keep the two platforms level during lifting and lowering. N.3 wheels (8) can be installed on the lifts so that the lift can be mobile by means of a hook on the power unit carriage.
Technical Specification
1.Size And Main Features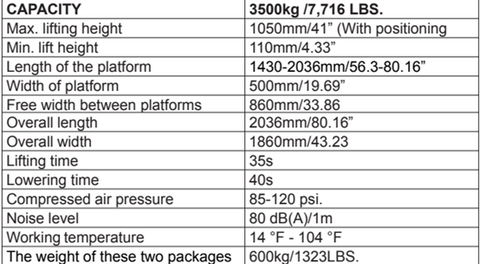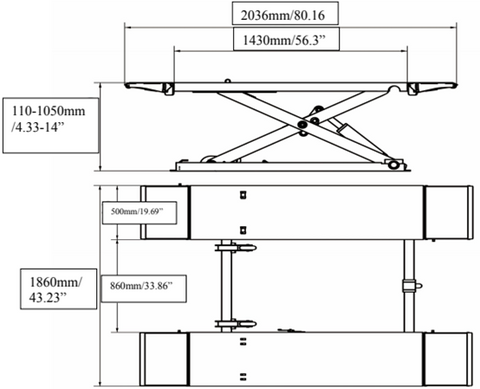 2.Hydraulic Power Unit